Prime Minister Narendra Modi and Congress president Sonia Gandhi were seen sharing some lighter moments at the banquet for US President Barack Obama on Sunday night at Rashtrapati Bhavan.

PM Modi was photographed smiling at Sonia Gandhi while raising a toast during dinner. The two sat facing each other at the main table, which featured President Obama, President Pranab Mukherjee and other top leaders. Former Prime Minister Manmohan Singh was also seated at this table.
The Congress president was seated next to US First Lady Michelle Obama.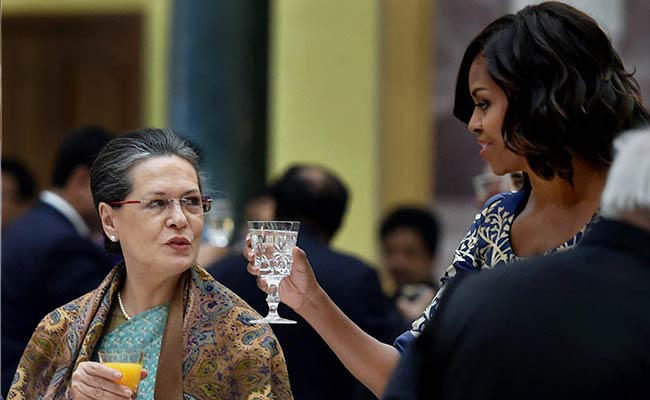 Michelle Obama is seen in one of the images sharing a toast with President Pranab Mukherjee.
President Obama toasted the "dosti" (friendship) between the US and India and said he had "wanted to wear a Modi kurta" for the occasion.
Nearly 250 guests, including top politicians, industrialists, artistes, sportsmen and film personalities attended the presidential banquet.
President Obama, who arrived on Sunday morning for a three-day visit, was the guest of honour at the Republic Day celebrations today.